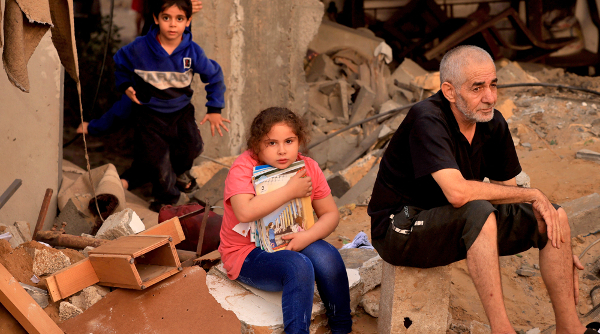 A young Palestinian girl sits next to an elderly on the ruins of an Israeli airstrike in Gaza, November 2, 2023. (AFP photo)
A diplomatic cable obtained by CNN has revealed that the continued support the United States gives Israel amid its genocide of defenseless Palestinians in Gaza is enraging the Arabs.
CNN reported on Friday that an American diplomat stationed in Oman has warned the administration of President Joe Biden that Washingtonís all-out support for the crimes of Israel is provoking fury in the Arab world.
According to the CNN report, the US State Department official based in the embassy in Oman reported to Washington on November 8 that the cable had been prepared after gathering information from "a wide range of trusted and sober-minded contacts."
The Arab world views the Biden administration as being liable for "material and moral culpability in what they consider to be possible war crimes" against the innocent people in Gaza, the cable said, concluding, "We are losing badly on the messaging battle space."
A separate report from the US Embassy in Cairo, also viewed by CNN, warned Washington about an op-ed piece in an Egyptian state-operated newspaper which said, "President Bidenís cruelty and disregard for Palestinians exceeded all previous US presidents."
Meanwhile, two-time Green Party presidential nominee Jill Stein warned about the massacre now taking place in plain sight.
Stein, who on Thursday announced she is entering the 2024 US presidential race, called for an investigation into the Israeli "war crimes" in Gaza and denounced President Biden and other leaders in Washington for their role in the present and past atrocities against Palestinians.
She said above all else Israelís attacks on Gaza must stop immediately.
"President Biden and bipartisan leaders are not only complicit, but they are full partners in Israeli Prime Minister Benjamin Netanyahuís crimes."
"We call for an investigation of the Netanyahu regimeís war crimes as well as the role of Biden and US leaders in aiding and abetting them," Stein said in a video posted on X.
"The war crimes being perpetrated by Netanyahu against Palestinians... are in a league of their own and have reached genocidal proportions with Palestinians denied food, water and electricity while being relentlessly bombed as they are forced to flee from their homes, running for their lives."
"For all those reasons, we demand a ceasefire, an end to the (Israeli) blockade, humanitarian and medical relief, the release of the hostages and political prisoners, and an end to occupation and Apartheid. This is the path to peace and security for us all."
Israel ignited the war machine on October 7 after Palestinian resistance groups led by Hamas and Islamic Jihad launched Operation Al-Aqsa Storm into the occupied territories in response to the regimeís intensified crimes against Palestinians.
According to the Gaza-based Health Ministry, Israel has killed more than 11,000 Palestinians, including over 4,500 children, ever since. Over 26,000 others have also been injured.
The Tel Aviv regime has also blocked access to water, food, and electricity in Gaza, plunging the territory into a humanitarian crisis.
LINK: https://www.ansarpress.com/english/28382
TAGS:
SEE ALSO