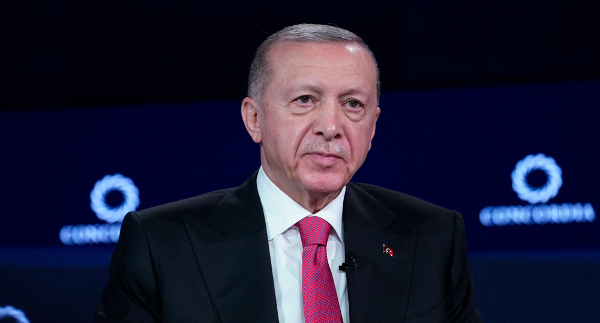 Turkish President Recep Tayyip Erdogan speaks onstage during the 2023 Concordia Annual Summit at Sheraton New York on September 18, 2023, in New York City. (Photo by AFP)
Turkish President Recep Tayyip Erdogan says the Turkish parliament is not prepared to ratify Swedenís NATO accession protocol since Stockholm has not gone far enough to secure its place in the military alliance.
During a closed-door briefing with journalists in New York on Monday, the Turkish leader said that "terrorists" were demonstrating in the streets of Swedenís capital despite the European countryís recent amendments to its constitution and laws to better fight terrorism.
"My parliament doesnít view this issue positively, they arenít ready to ratify Swedenís accession protocol."
The Turkish leader also told NATO Secretary General Jens Stoltenberg at a meeting on Monday that Swedenís membership would eventually be on the agenda of the Turkish Grand National Assembly after it reconvenes in October.
For the vote to take place in the parliament, Erdogan, however, said that "Sweden should keep its promises."
"We donít have any prejudices in place, but there is an issue that Sweden is not keeping its promises."
He said Kurdish groups that Ankara considers terrorists "should immediately stop their demonstrations on the streets of Stockholm, and they should stop their activities because seeing this actually happening is going to be very important for the Turkish people."
Sweden needs Ankaraís consent to join NATO, of which Turkey is an old member.
Erdogan has conditioned his approval of Swedenís bid on the nationís dropping of its support for Kurdish opposition groups that are considered terrorist outfits by Ankara.
To that end, Sweden passed an anti-terrorism law in May that criminalizes membership in terrorist organizations in the country.
Back in July, Turkey, Sweden and NATO struck a joint statement that said Stockholm had changed its anti-terrorist laws, expanded counter-terrorism cooperation against Kurdish opposition groups, and restarted arms exports to Turkey.
At the time, Sweden pledged to present a "roadmap as the basis of its continued fight against terrorism in all its forms."
Turkish officials reiterated that Sweden needs to submit a roadmap to indicate how it will fight terrorism in the long term.
Erdogan to discuss Black Sea grain deal
The Turkish president will also discuss with Stoltenberg his efforts to revive a grain deal that had allowed Ukraine to export its grain via the Black Sea amid the ongoing war with Russia.
The Black Sea deal was brokered by Turkey and the United Nations in July 2022. Russia, however, withdrew from the deal in July this year, saying its conditions for the agreement were not met.
Moscow complained that its agricultural exports faced obstacles and not enough Ukrainian grain was going to countries in need under the grain deal.
Erdogan was a key player in brokering the grain deal. He said in August that the revival of the agreement depends on Western countries keeping "their promises."
LINK: https://www.ansarpress.com/english/27101
TAGS:
SEE ALSO