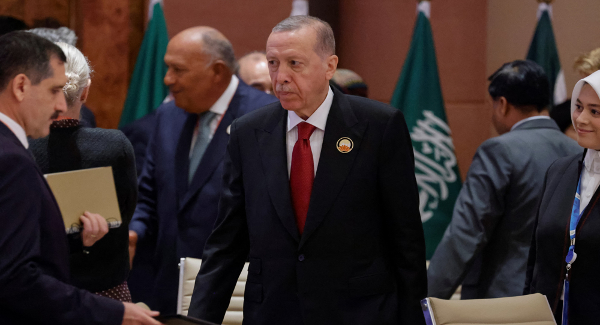 Turkeyís President Recep Tayyip Erdogan. (Photo by AFP)
Turkish President Recep Tayyip Erdogan says Ankara may "part ways" with the European Union, signaling the countryís frustration with the blocís assessment process to include Turkey as its member.
Speaking to reporters ahead of his trip to the United States, Erdogan said, "The European Union is trying to distance itself from us."
"We will carry out our own assessment of the situation and we also could take another direction."
Endogen made the remarks in response to a question about a recent report adopted by the European Parliament, which stated that Turkeyís "accession process cannot resume under the current circumstances, and calls on EU to explore 'a parallel and realistic frameworkí for EU-Turkiye relations."
Earlier this week, Turkeyís Foreign Ministry said that the report contained unfounded allegations and prejudices and took "a shallow and non-visionary" approach to the countryís ties with the EU.
The ministry also affirmed Turkeyís resolve to join the EU and urged the bloc to take courageous steps to advance its bid.
Turkey applied to join the bloc 24 years ago. Accession talks, which began in 2005, were put on hold indefinitely in 2016 over Turkeyís crackdown on opponents following a failed coup attempt in the same year.
Tensions have recently risen between Turkey and its Western allies over Swedenís bid for NATO membership.
Stockholm needs Ankaraís consent to join NATO, of which Turkey is an old member.
Erdogan had previously conditioned his approval of Swedenís NATO bid on Stokholmís dropping of its support for Kurdish opposition groups that are considered terrorist outfits by Ankara.
He even upped the ante by securing a pledge from the EU to resurrect the membership talks in exchange for lifting its blockade of Swedenís drive to join NATO.
After months of objections, Erdogan agreed at a NATO summit in July to forward Swedenís NATO bid to the Turkish parliament for ratification. However, the timing of the Turkish parliamentís green light for Sweden remains unclear.
LINK: https://www.ansarpress.com/english/27033
TAGS:
SEE ALSO