The Mohammed bin Rashid Al Maktoum Knowledge Foundation (MBRF) revealed the agenda of the first Literacy Challenge Forum, held under the patronage of H.H. Sheikh Mohammed bin Rashid Al Maktoum, Vice President and Prime Minister of the UAE, Ruler of Dubai, and directives from MBRF Chairman H.H. Sheikh Ahmed bin Mohammed bin Rashid Al Maktoum.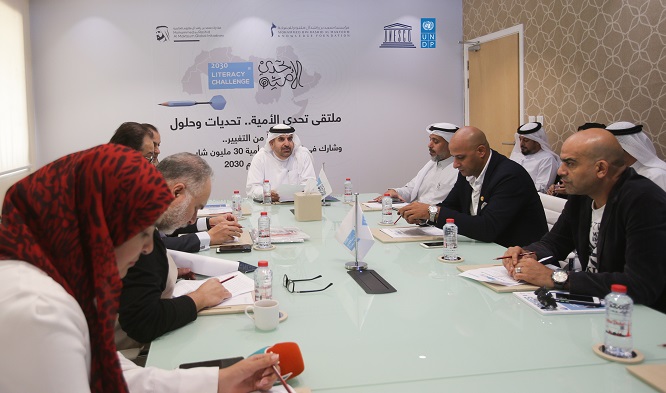 Sponsored by the UNDP and UNESCO, the event will take place on February 24-25, 2020, under the theme 'Challenges and Solutionsí. It aims to provide an integrated platform for international literacy experts and leaders to exchange expertise and cooperate to eliminate illiteracy in the Arab world. It explores modern approaches to adult education, highlighting inspirational stories from leading figures and entities in the field.
The event targets knowledge institutions and universities, gathering heads of various Arab literacy boards, international academics, literacy and education specialists, and UNESCO/UNDP experts. The Mohammed bin Rashid Al Maktoum Knowledge Foundation announced that registration for the event is now open to participants from various countries on the MBRF official website, through the link: https://mbrf.ae/literacychallenge/
"The Forum seeks to realise the UAE leadershipís vision. It marks our commitment to expanding the Literacy Challenge into a broader knowledge conference where thought leaders and experts meet to exchange expertise, share success stories, and propose solutions," H.E. added. "The theme reflects our goal to eliminate all obstacles in the way of knowledge dissemination. This can only be achieved if we combine our efforts and establish strategic partnerships with regional and international entities."
Illiteracy in the region stands at 21%, reveal statistics from the Arab League Educational, Cultural, and Scientific Organisation (ALECSO), exceeding the global average of 13.6%. Furthermore, tensions and protests in several Arab countries led to 13.5 million out-of-school children. And while illiteracy among Arab males is 14.6%, it is 25.9% among females, going as high as 60% in some nations.
H.E. applauded the media for raising awareness on literacy initiatives, and revealed plans for the forum to present a comprehensive perspective of the regionís illiteracy problem and offer effective solutions.
The forum explores illiteracy in Arab society along four pillars: 'current state of illiteracy, adult learning, and education in the Arab world,í 'lifelong learning - a contemporary vision,í 'success stories in the Arab worldí and 'showcasing experiences of leaders in combatting illiteracy.í
The forum features workshops on regional and international studies on illiteracy, highlighting accomplishments of organisations and individuals working to eradicate illiteracy, modernise the education system, and develop projects to promote literacy around the world.
LINK: https://www.ansarpress.com/english/13846
TAGS:
SEE ALSO